This study explored the use of mature embryo axes as explants for somatic embryogenesis and determined the factors that affect regeneration of three Ugandan groundnut cultivars: Acholi white (Valencia botanical), Serenut 4T (Spanish botanical), and Serenut 1R (Virginia botanical).
Date produced: 2015
Project: TLIII
File type: PDF (644.84 KB)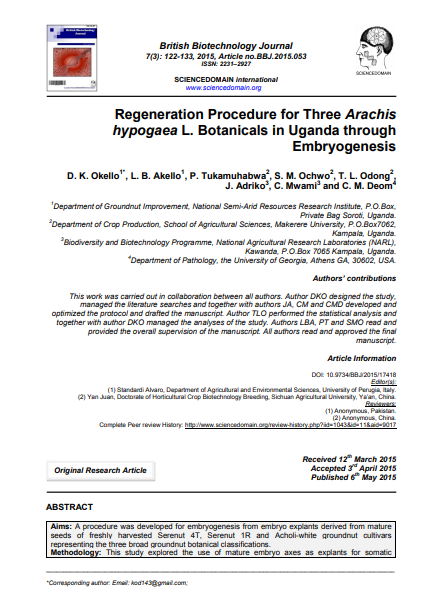 This study documents the findings of a nationwide survey in 2012 and 2013 covering 23 districts in Uganda. The surveys ascertained the predominant GRD symptom types, GRD incidences and severity, farmers' knowledge and their GRD coping mechanisms, the current groundnut seed system and farming practices.
Date produced: 2014
Project: TLII
File type: PDF (1.13 MB)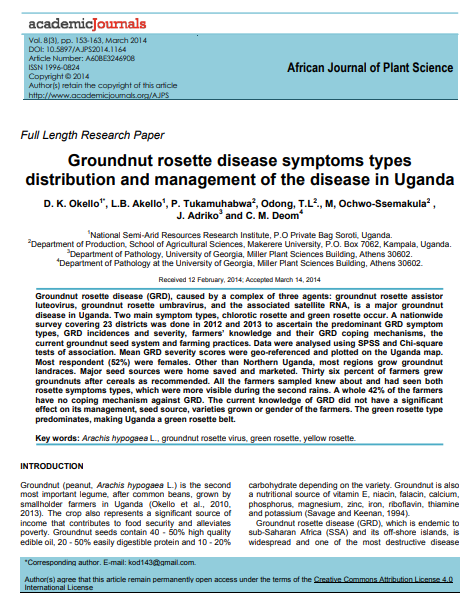 This study was conducted to determine narrow sense heritability and gene action controlling Late Leaf Spot resistance in Valencia groundnut materials.
Date produced: 2014
Project: TLII
File type: PDF (94.07 KB)